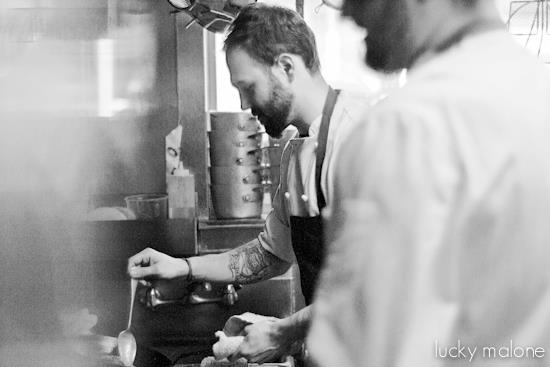 Josh Rathbun (my husband's son) is teaching two Social classes on August 7th and August 11th. He's worked the past 5 years at a top ten restaurant in the country called Fruition.
He brings talent, passion and a lot of restaurant cooking expertise to share!
Tuesday, August 7th, 6:15 p.m.
Handmade Pasta with Josh Rathbun
– Ricotta Ravioli with Bolognese Sauce
– Potato Gnocchi with Burre Blanc Sauce
– Farmers Market Finds Salad
Saturday, August 11th, 10 a.m.
Fruition with Josh Rathbun
– Ratatouille: Crispy Eggplant, Tomato Vinegarette, Thinly-sliced Zucchini, Grilled Onion, Prosciutto, Manchego Cheese & Balsamic
– Pan Seared Scallops with Corn Goat Cheese Cakes, Shrimp, Pickled Veggies & Corn Puree
– Peach Cobbler
These classes are limited to 8 people each. If you are interested, please act quickly or you'll miss out on this opportunity. (He's moving to Australia in a couple weeks, so this won't happen again anytime soon.)
Stay tuned for August and September schedules! I'm working on them now! Thanks!