Where to begin? This summer has been a blur of travel, home projects and attempting to stay cool.
I should start with Memorial Day, as that's what most people think of as the start of the summer season. We went to Ellsworth to my in-laws, as we do every year for a wonderful picnic filled with lots of Rathbun relatives, young and old. It's held in my mother and father-in-laws' beautiful backyard on the farm that has an incredibly breathtaking bluff as the backdrop. Always a wonderful time, and lots of good eats, too. Where is the photo, you might ask? Well, I was so busy chatting and eating, I forgot.
Next up, came a memorial golf tournament in my father's honor. Most definitely bittersweet. Miss him like crazy. Can hardly believe this much time has passed since I've heard his voice or hugged him. One hundred of his friends and family gathered to raise over $14,000 for a scholarship for his alma matter, Northwest Missouri State. We enjoyed seeing some of dad's friends, ones that the last time we saw them it was a much more somber experience. It made me feel connected to dad to be around all the people he loved and love him back.
A wonderful surprise came from our trip to Mt. Ayr, Iowa (dad's hometown and where the golf tournament was located). Randy and I coaxed and begged for my 85 1/2 (apparently you start counting the halves again when you get that old) year old GG to come home with us. Sure, GG's been to my house to visit. But it was always quick visits with my dad.
GG came to visit for 2 weeks here in Wichita. She was able to experience one of my cooking classes, the art of running around like a chicken with it's head cut off (which I tend to do a fair amount), go to Red Rock Canyon Grill for a Perfect Margarita – twice and shop till we dropped – day after day! GG has quite the sweet tooth, and she went through 6 or 7 dozen Krispy Kremes on that 2 week trip to Kansas! Clearly we were trying to put weight back on her. (Gee, how I wish that were my problem!) Mission accomplished for her at least!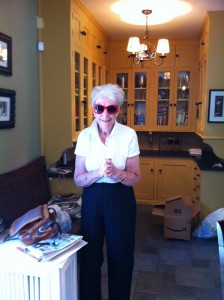 You might have noticed from driving by our house that we landscaped a large portion in the front and had the trim painted on the house. It was no small job as we have a ridiculous amount of windows in this house! Bless those guys' hearts who worked in the CRAZY heat tirelessly to get my job done before the party. So thankful because it looks awesome! All of the doors are now purple (although the front and back have been purple for a while) and the trim a cool charcoal grey color.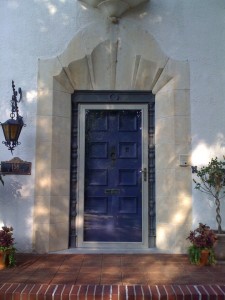 Many other couples, Randy and I hosted a couples shower in early July for our friends, Kevin and Lauren. Randy and I rushed to get so many things done around the house to get ready for the party and it was so worth it. Beautiful party, beautiful couple and everyone enjoyed the Mexican food, Jesse and David – best bartenders in town – from At Your Service, The Shoes as musical entertainment and the flowing Lovelies (tasty cocktail) and other libations. I should at LEAST have a photo of this wonderful party, but once again, I was too busy drinking, eating and hosting to worry. Perhaps I need to hire a photographer next time!
I took a week or so to recoop from all of the work I'd done around the house to get ready for such a big party and just RELAXED! It was well worth all of the work, but I was worn out!
Next major happening of the summer was a bachelorette party for my friend Sabeena to Las Vegas! Pretty sure that City of Sin didn't know what hit it, and like the saying goes, what happens there stays there! Fun times were had by all, a wee bit of drama (hey there were 17 ladies!) and many funny stories!