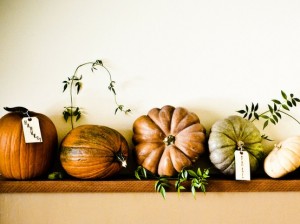 After a several month hiatus, Social is back in the kitchen with sleeves up and ready to dig in! A little R & R (or maybe a lot!) can go a long way in recharging batteries and getting back in the swing.
I've missed seeing your smiling faces in my kitchen! And speaking of my kitchen – we had our granite countertops installed this summer! My kitchen is coming together so beautifully! I can hardly wait to share it with you all!
Please take a peek at the Fall classes and see which ones excite you! Sign up is easy – just email or call (abgeist@hotmail.com or 990-4493). A reminder that my schedule is flexible. If a class interests you, and the time doesn't work out for your schedule – there might be several other people with the same predicament. Just give me a call or send me an email and I'll see what I can do.
For now, Happy Fall! Wishing you a wonderful season of colorful mums and pretty pumpkins – and of course warm, mouth-watering, satisfying fall foods!